21 July 2006
GO AWAY
Is This Our Fault?
I confess to knowing shit about the weather except that bodegas jack umbrella prices 400% when the first drop drizzles, and flexible flyers suck in powder snow but can't be beat on the hard stuff (and ice). But I'm seriously worried about our environment right now. More rain? Is this because my mom drives an SUV? Because my first car was an SUV called the Jazzmobile? Because the first rule of Jazzmobile Club was that you only could listen to Tower of Power? In fairness my mom's SUV is one of those Jeep Liberty "cost-efficient SUVs," and she has a lot of kids that need to go places so the extra space doesn't hurt. I'm just saying, weather, my mom deserves better than this.
Alternatively, give Mother Nature a record deal--this is seriously the best Blind Melon parody since Weird Al murdered the little girl in the bee costume.
Download:
Tower of Power's "
Only So Much Oil In the Ground
"
Download:
Blind Melon's "
No Rain
"
2/100 RIFFS
20 July 2006
THURSDAY I'M IN JUG


Uncomfortable Video Content Courtesy YouTube

Granted every clown ever has a tape of him and his buddies bumping chests to "Smells Like Teen Spirit," but who of us has videos rocking out to the b-sides? So this is pretty exciting: Four friends have gone down to the lead friend's finished basement. You'll notice the bassist has no shoes on, probably because the lead friend's mom is one of those "no shoes in the house" types. Interestingly though, the lead friend's mom is not the "don't take my pots and pasta bowls and make a fake drumset out of them" type, so these friends totally lucked out. The drummer was even able to finnegle a tall bar stool, which acts as a cymbal stand--which means there's a bar in the house, and after the shoot these dudes are totally getting their drink on.

One more thing: Keep in mind that Nirvana was a three-piece, and these four friends are totally a four-piece. I'm wondering about the conversation beforehand:

-OK, I'm the lead friend, so I'll be Kurt.
-And I'm the guy with the hat on, so I'll go upstairs and grab your mom's pots and pasta bowls. She's cool with that, right?
-Yes, my mom's a cool mom. In high school she used to let me have parties with beer.
-Parties with beer?! She is cool.
-Anyway, I'm the shitty dude, so I'll be Novaselic.
-Casting is complete. Now we can film ourselves rocking out to "Aneurysm" in my finished basement.
-Hey guys, what about me? I got all dressed up in black today because you said I was gonna be in our Nirvana video. Are you telling me I bought all these clothes at H&M for nothing?
-Oh shit! Right. Oh shit. OK. Lemme think. I'm the lead friend, that's what I do.
-Can we pretend there's a guest appearance by U2's The Edge?
-...
-I love U2.
-Well it's just that, I dunno, this is a Nirvana video, not a live...
-It's fine. Don't even worry about it--I'll be the Edge.
-Wait just a second though, let's decide whether...
-This is the greatest day of my life.

68/100 RIFFS

19 July 2006
RICK ROSS: MURDERER
Headlines
Awkward headlines I've seen or plan on seeing re: the new Rick Ross album coming in August (it's called
Port of Miami
):
"Rick Ross Ready to 'Blow' Up When He Docks At
Port Of Miami
In August" [
MTV
]
"Rick Ross Sets Sail In August" [
SOHH
]
"Rick Ross Does the 'Hustlin' In
Port Of Miami
, A Place In The Town Where He's From" [
PURP
]
"Rick Ross Has Made A Rap Album Called
Port Of Miami
" [
GHEH
]
"Rick '
Port Of Miami
' Ross Has A Face And Sometimes Words Come Out Of It" [
MP
]
55/100 RIFFS (AVERAGED)
18 July 2006
LIVE REVIEWS KINDA SUCK DON'T THEY
Very Generally Speaking, No Names TakenDownload:
Charalambides's "
Dormant Love
"
This came up yesterday, typically, over shredded pork and general tso. I've written plenty live reviews, most times because Riff Raff ruffed daily and I was getting tired of the old spiders-in-buckethats routine. Also concerts make pretty good dates: They're free, and if your date's pretty awesome you can make little jokes about stuff in between songs and she totally will buy the next round of drinks. The flip, if your date sorta sucks, you can just ask her to bend over a little and use her back to take copious notes. If she's the taller type, you just have to be patient. But then again, maybe she doesn't even mind
that
--so now you have a decision to make.
I can't tell you the last time I listened to a record with more than one other person, and I know a lot of people, so I'm willing to guess that most people interact with their musics alone--just the lonely people and the musics. So the whole communion of live music, concert as ceremony myths remain more intact than ever, at least for people who don't go body and blood to shows every night. As for live reviews, it makes sense to meet music on different terms, in different scenarios, not just in your room with your pants off and maybe a towel draped over your legs so the laptop doesn't burn your junk.
So most live reviews service the rockcrit machine--they're album or best-of reviews in a readymade context, these are the songs Madonna sang, the crowd was "age/race/sex demographic XYZ" and they were pretty into the "Material Girl" who by the way still looks great after all these years, Madonna "overcame" technical difficulties or whatever, and here's an ironic thing Madonna said to the crowd which will make for my fantastic conclusion. And you know, whatever. I'm fine with these reviews. K. does them all the time, even gets a few cross-genre puns and parenthetical jokes in, and I don't think you can ask for more from America's sharpest, handsomest pop critic.
Maybe you want to know
exactly
what you missed at that sweet Grandaddy acoustic show last night, but for the rest of us that fly-on-the-wall, Horace-in-his-cabin shit reads pretty colorless--pretty commonplace, utterly un-eventful. Maybe you have the time to read a few different show reviews in different cities--so now you know Missy Elliott's live show is fairly consistent, good for you, good for her. It's merely a report, the writing never justifying the impetus to write, and I have severe problems with people who interact with music like that. A concert's not a fucking crime scene.
That said all the ultra-definitive, "this show was about...staying young forever" zeitgeist type concert reviews read so forced to me--so naive too. Fact is, the more concerts you see, the less taken you are by a concert's general circumstances. There's always somebody in front of you, and he's always saying something stupid. There's always a guy complaining about how nobody dances at shows anymore, how the scene is fucked, whatever. There are always two kids next to you smoking reefer--I know these two kids and they just really like the stuff, get over it. Maybe these details merit inclusion in your conclusion that the Wolfmother show was this rock-as-democracy, everybody loves some Zeppelin return to roots--maybe. But there's too much cause and effect--sorry, a really packed show at the Merc is not a "real intimate experience," and actually you're the only one who
isn't
on the list with a plus one. A bunch of people are cramped into a room, drinking expensive drinks, being hipsters, watching someone perform the same jokes and same setlist and same snafus he'll do in the next fifteen cities he's in, somebody will have sex with another someone, and if it's a Deerhoof show, I'll have my shirt off.
Shows make for bad writing, that seems to be the reason a lot of people just stay away from reviewing. But people still like free tickets, and press people need press, so here we are now with a million "photo review" blogs with the same exact pictures of Eddie Argos jumping sweaty around the Bowery Ballroom--a real rock and roll moment right. Maybe you get a judgement--"Art Brut were pretty good last night, not as good as that other time I saw them (you may remember the sweet pictures I took)"--but as someone who's taken photos as shows before, I know how tough it is to pay attention to the moment when you're trying to get the good shot on stage. To say nothing of the fact that you can't drink brews with your bros, you don't get the best mix because you're right in the front, and again, the whole brews with your bros thing. Beyond that, some people do the live photo blog thing really really well--I just don't know why people think they can do better than, say,
this guy
.
To an extent I guess live reviews could tell you whether you should see the band in your town, but I don't think anybody really reads the reviews like that do they? I had heard Unicorns had a terrible live show, but I still wanted to see them as Islands (until they preemptively banned me). Just saying that it's never Should I Stay or Should I Go--concertgoers tend to have a wide latitude when it comes to who they'll see or how much they'll tolerate, especially at indie rock shows. Plus I've rarely read any truly negative reviews of live shows anyway--it's as if the reviewer doesn't want anybody to know he wasted his time seeing, I dunno, Bloc Party at Webster or Keren Ann at Tonic or whoever.
Quickly: Apparently some people read reviews to see if pranks they pulled there are
noted for posterity
.
Let me backtrack as I enter rant length and territory. Live reviews are too dry or too breathless, too respectful or too reverential, overly matter-of-fact or overly abstracted--at all times "cracked" and figured out and processed and hot damn it's onto the next concert. All the "every concert means something" talk is merely a writing exercise, a chance to work in a reference to Stanley Cavell or Dennis Cooper or Dr. Seuss or whatever lit dude you're jocking that week. Maybe people read them to see what they missed, or because they care about an artist's live show, or since they went to the show and want to see whether their opinions mesh well with the author's, but most people don't read them (for my own, I cite Riff Raff pageviews) because they don't care or know the writing's formulaic or just plain awful. Yet there's still a market for them--and still plenty of people who will write them in exchange for free concert tickets.
I wish I knew exactly what I liked in good live reviews but I don't. Dave Hickey did one in the Voice a while ago, he brought an imaginary young kid to an Aerosmith show and the review was a hilarious and obviously insightful dialogue between Hickey and this kid. Pretty great stuff, if any publication had the balls anymore to run something like that. I appreciate people who appreciate the who what where when why and how of the concert experience exactly how the artist intended it, what he wanted us to take from it--but I want an alternative narrative too. I don't want the concert reported, I want it read, and I want to read you
reading
. But who reads anymore?
17 July 2006
WAMP WAMP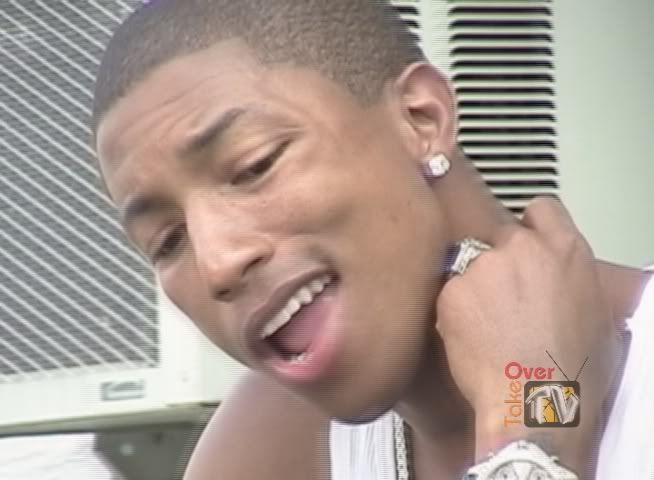 Bite Down On My Anticipation
Two big albums I expect to devastate my topten riffs 2006 list are this Basement Jaxx
Crazy Itch Radio
guy and then
Hell Hath No Fury
, by the rap blog world's most overrated "underrated" act the Clipse. Over the weekend I heard the lead Jaxx single "Hush Baby" and the next
Fury
single "Wamp Wamp (What It Do)," which has Slim Thug on the hook, so some early thoughts:
Basement Jaxx: "Hush Boy (Radio Mix)"
(MP3)
Two weeks ago I went home tasked with making J one of those embarrassing "this is what I listened to when I thought Rage Against the Machine's
Evil Empire
was the most aggro shit ever" type mixtapes. I had to tear open all these boxes to get to my old CDs and tapes and records because my mom, who swears she still loves me, boxed all my stuff up as soon as I left for school and gave my room to one of our dogs (the older, shittier one).
Either way, I forgot how much big-budget late70s early80s FUNK I listened to--Gap Band, Cameo, Lakeside, Ohio Players, Tower of Power, Brothers Johnson, Average White Band, Mandrill, Earth Wind and Fire, LTD, Heatwave, Bar-Kays, etc., and obviously Kool and the Gang and Parliament and an obscene amount of Bootsy Collins. We're talking full LPs, all the shitty ballads, everything including the Kool and the Gang video footage from the Playboy festival (they wore matching sequins jumpsuits). "It's because you used to play the horn, Nick," mom says, "so that's why you like horns, why don't you play the horn, your dead hornplaying grandfather resents you..." and so maybe my liking for "Hush Boy" starts with the big horn lines and overall overblown "shitty funk" vibe.
As usual for BJaxx, the song doesn't breathe at all, gills stuffed and the rest. Fine, but the vocals... really lame decisions on the melody, which stays obvious and relies on the chick to sex it up, emote in that awful "awful eurohouse" way that repels people the same way the old themesong to the Oprah Show ("Oprah's on!") screams fun fun fun. I'm smitten with rappers repping facebook and myspace and their favorite FTP servers but for some reason the Jaxx's "found the restaurant on the internet" line falls flat for me--I'd much rather the song be about how awesome the party's gonna be tonight than "so the food is good, I had a chicken fajita," then turn into yet another "check on it"/"take it slowly" anti-"Promiscuous Girl" track where both male and female are indecisive and unempowered and lame.
62/100 RIFFSClipse: "Wamp Wamp (What It Do) [ft. Slim Thug]"
(MP3)
Obviously I'll probably end up liking this song because the lyrics are so on, so impossibly referential with a pretty great bite on the "Horse & Carriage" hook delivery too, but for now: I hear "Wamp Wamp" and think (a) pretty lame attempt at getting a signature catchphrase started (cf. Rza's aborted "boom boom") and (b) I can't wait until somebody synches this up with the scene in
The Little Mermaid
where that fucking crab's playing the marimbas. The crab would also say "wamp wamp."
72/100 RIFFS